Freelance Opportunity at The Smith
We are looking for a Freelance Photographer. Apply by 5pm on 6 May 2022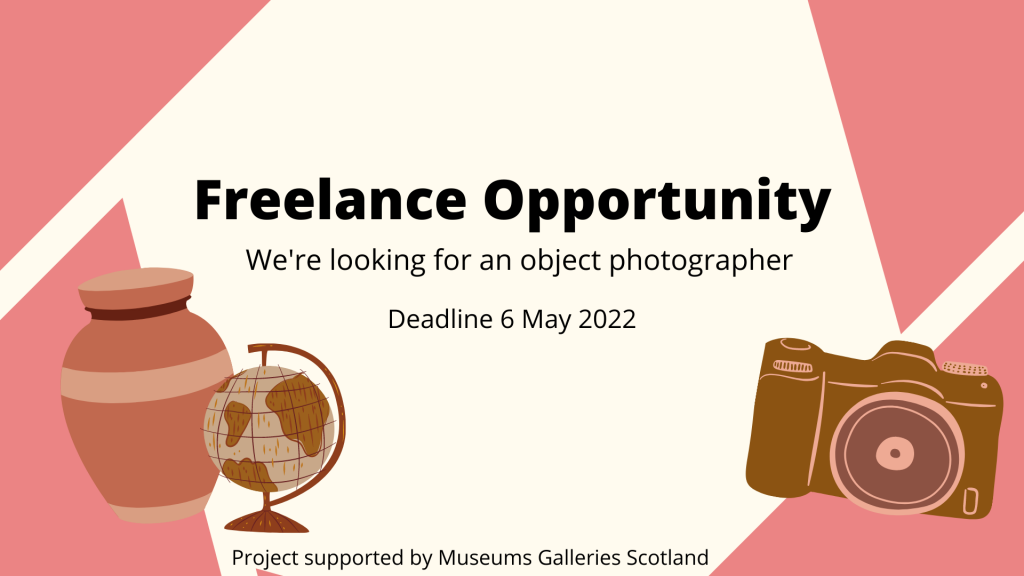 The Stirling Smith Art Gallery and Museum are looking for an experienced photographer to photograph of our World Culture collection. Skilled in museum object photography, you will be part of a project to increase digital access to this unique collection.
We have been awarded funding by Museums Galleries Scotland to increase digital access to our world cultures collection by photographing a number of objects to be used on our website, social media channels, collections management system and the promotion of the collections.
As project photographer you will be responsible for photographing 400 objects from our World Culture collection. This role will involve post-production and processing tasks as well as keeping accurate files in line with museums cataloguing standards. The post will suit a photographer who is self-motivated, has their own equipment and who can adapt to working in temporary studio spaces.
Candidates will have extensive experience working as a professional photographer with museum objects and to be able to demonstrate a full knowledge of imaging software and lighting techniques.
The candidate will work with the collections manager throughout this project and should be able to work both under supervision and under their own initiative.
The project will be based at the Stirling Smith Art Gallery and Museum. The frequency of work is a minimum of 2 days per month from May – December 2022. Working days are typically from 9.30am – 4.30pm.
To apply for this post please send a CV and cover letter which includes your daily rate and examples of your work to: Nicola Wilson, Collections Manger at Nicola@thesmith.scot
To arrange an informal discussion on the role, please contact: Nicola Wilson on the email above.