Oswald Clingan-Smith
Cat – in – Charge, Stirling Smith Art Gallery and Museum
Concise Catography and Purriculum Vitae
Born: 12 May 2004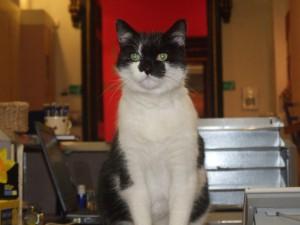 Came to serve the Smith as a kitten and has been Cat-in-Charge since then. He specialises in Meet and Greet, guided tours and security. He has given many interviews on the Smith and its collections. When the Public Catalogue Foundation came to record all of the Smith paintings for the national record in 2011, he was declared to be the Public Cat. When in 2016, the PCF changed its name to Art UK, he was the Public Cat chosen to introduce the new name and website to the public.
He has strong views on Staff Training and is a member of @CuratorialCats.
Visitors may speak with Oswald at the Smith or share a selfie, but cannot take him home. There is an Oswald knitting pattern for those who want their own Oswald.
Oswald uses social media to speak to people and cats all over the world.