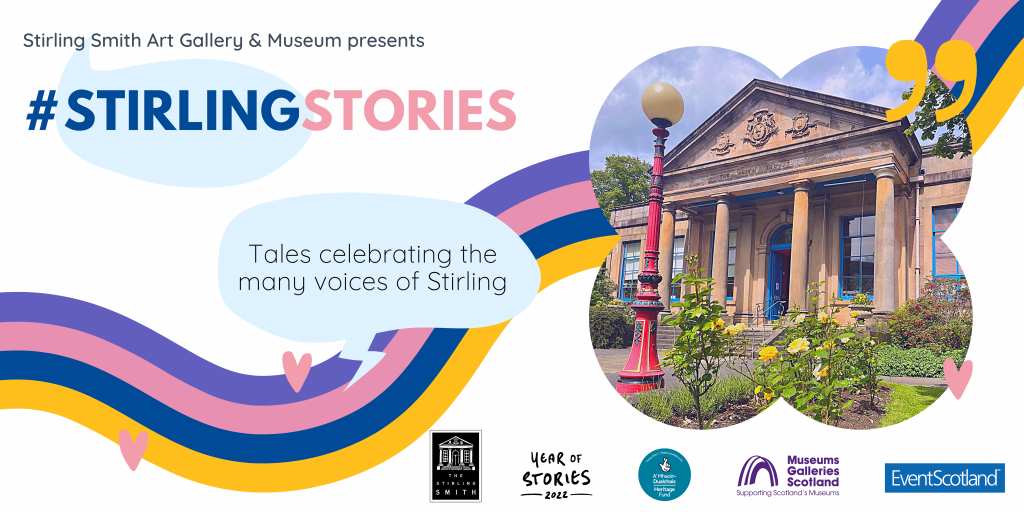 The Stirling Smith is pleased to host a series of events celebrating the diverse voices of Stirling.
For many years visitors have been enjoying our museum display, 'The Stirling Story', which provides visitors with a history of Stirling from prehistory to the twentieth century through The Smith's collection. Visitors can continue that journey for further discovery through this new and exciting programme of events as part of the celebrations for Scotland's Year of Stories 2022.  #StirlingStories extends these tales from outside the museum and into the community through some of the many voices that make up Scotland's multifaceted heritage.
The Smith is collaborating with other community partners such as Stirling Central Library, The Tolbooth, and Forth Valley Sensory Centre to host storytellers throughout the year.  These event times, locations, and prices, if applicable, will be listed on the Year of Stories Website as well as our website.  In addition to these events, the museum will be holding an exhibition in September celebrating the interlinked heritage of Scotland and New Zealand by artist Mitch Manuel entitled, Woven Identities: Tartan meets Koru.
Marie Christie, Head of Development at VisitScotland said: We are delighted to be supporting #StirlingStories through the Year of Stories 2022 Community Stories Fund. Events play an important role in our communities as they sustain livelihoods and help to celebrate and promote our unique places, spaces and stories. Themed Years are all about collaboration and Museums Galleries Scotland, National Lottery Heritage Fund and VisitScotland are pleased to work in partnership to create this fund to showcase community stories. By supporting events taking place within our communities, including #StirlingStories, new opportunities with be provided for locals and visitors to come together and find out more about the diverse stories, past and present, that our communities have to share.'
This event has been supported by the Year of Stories 2022 Community Stories Fund. This fund is being delivered in partnership between VisitScotland and Museums Galleries Scotland with support from National Lottery Heritage Fund thanks to National Lottery players.