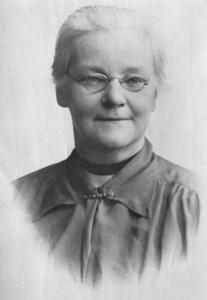 Founder of the Stirling's Children's Home, Annie Knight Croall (1854-1927) is one of the unsung heroines of Scottish history.  She was the daughter of the first curator of the Smith Institute, and came from Leeds to Stirling at the age of 19.  A deeply spiritual person, her work for neglected and orphaned children started after she found a baby on the Back Walk, left there by its mother who had gone into town for a drink and had been arrested.
In the 1870s there was no social provision for children in need, and Annie Croall struggled to find the means of housing and sustaining those who were sent to her.   She managed to purchase Whinwell House in 1890 and set up a Dorcas Society whose members sewed clothing for the children.  Many of the children were put into emigration schemes at the age of 14, and sent to Canada and Australia.  The Stirling Children's Home continued to be run by a board of Trustees, until 1980, when the responsibilities were transferred to the Aberlour Childcare Trust.
Annie Croall described her life as "Fifty years on a Scottish Battlefield." She is buried in the Valley Cemetery. The photograph was gifted by W. F. T. Anderson.