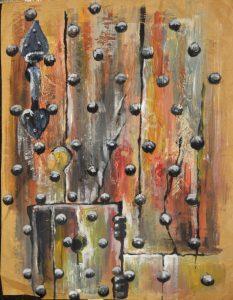 The great front door of Carnock House was donated to the Stirling Smith Art Gallery and Museum in 1938 by the Carron Iron Company, prior to the demolition of 1940. It is built of three thicknesses of wood, strengthened with big iron studs. An unusual feature is the loophole near ground level, where small cannon could be positioned to repel any attackers.
Carnock, near Airth, was one of the important country houses of Scotland, built by Sir Robert Drummond (1516 – 1592), Master of Work (royal architect engaged in building the Palace in Stirling Castle) as his own residence in 1548. It was modernised in 1827. It had fine painted ceilings of the 1540s. Part of one ceiling was rescued by the body which is now Historic Environment Scotland, and in 2007, this also was given to the Stirling Smith.
Today, using these faded fragments of buildings, we can only imagine the society which created these fashionable strongholds, but they also serve an additional purpose. This is a painting of the door by Kit Neufeld, a student in the Saturday Sketching class of the artist Peter Russell, based at the Smith.  For almost 20 years, Peter Russell's students have found inspiration in the Smith collections and their work is currently on show there.