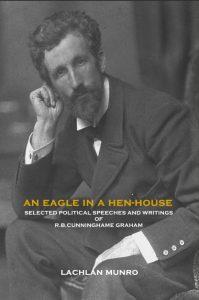 St. Andrew's Day is officially celebrated as a public holiday in Scotland thanks to the work of Stirling politician Dennis Canavan and his St Andrew's Day Bank Holiday (Scotland) Act 2007. The Stirling Smith has celebrated with special events over the years, and next Thursday hosts the book launch of An Eagle in a Hen House, the selected political speeches and writings of R.B.Cunninghame Graham – aristocrat, cowboy, M.P., Marxist, Scottish and Irish nationalist, anti-imperialist, social commentator, women's rights campaigner, writer, and wit. A friend of William Morris, Oscar Wilde, G. B. Shaw, G. K. Chesterton, Joseph Conrad, he co-founder the first Labour Party with Keir Hardie, and was the first President of the SNP. Author Lachlan Munro has gathered the writings from hundreds of sources and already, the book is a favourite of the many volunteers who staff the Cunninghame Graham Library in the Smith.
It was the poet Hugh MacDiarmid who described Graham, the first socialist in the Westminster Parliament, as being like 'an eagle in a hen house'. Graham himself described Westminster as 'The National Gasworks'.
At 12 noon on St Andrew's day, the Eagle will fly again in Stirling when Lachlan Munro introduces Stirling politicians Sir George Reid, Dennis Canavan, Provost Simpson and a host of others to read from the book. Tickets free, but booking essential.  Book your place here.