It has been a pleasure to serve as the Hidden HerStories project intern this spring at The Stirling Smith Art Gallery & Museum as a complement to my postgraduate studies in art history at The University of Edinburgh. During this time, I have seen first-hand how the Smith thoughtfully tells the stories of influential people and events that have helped to shape the character of Stirling. Even still, museums operate within a broader art historical context that for centuries has not afforded the stories of women—artists and subjects alike—the same attention or acclaim garnered by their male counterparts. To push back against this tendency, this project endeavours to mine for Hidden HerStories in the Smith's Victorian portrait collection. Unsurprisingly, tales of resilience, accomplishment, and legacy surrounding the women whose portraits hang in the galleries have been unearthed along the way. By shining light upon these previously Hidden HerStories, the lives of Harriet Dutens, Agnes Smith Greig, and Georgina Smith are hidden no longer! Read on to see these women come to life off the canvas.
Harriet Dutens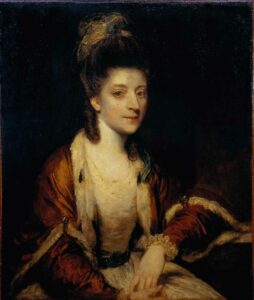 In 1772, Scottish officer of the British Army, Sir James Campbell (born James Callander) spotted Harriet Dutens at the opera in London. Just ten days later, they were wed by special licence. The pair were married for less than a year before Harriet succumbed to an illness that came on after the birth of their daughter, Elizabeth in 1773. Harriet and James made one trip to the Stirling area to visit his family before her untimely death. In his memoirs, Campbell remembers his late wife's skills and intellect fondly: 'she had not merely practiced music as an art but had studied it as a science, and to her, I am indebted for any little knowledge of astronomy which I afterwards possessed.'
With roots in France, Harriet's family settled in London where they enjoyed considerable wealth while her father served as jeweller to the court of the Prince of Wales. Although the Dutens family did not initially approve of her marriage to Campbell, Harriet's brother wound up marrying James's sister, further solidifying the tie between families. The zany tale goes on: Campbell married twice more after Harriet's death, was sued by his creditors to pay off his debts with Harriet's inheritance, and changed his last name in efforts to stake claim to his relative's fortune.
Although Harriet did not live long after sitting for her portrait in Joshua Reynolds' studio, her legacy was carried on by her daughter, Elizabeth who began a family of her own with husband, Richard Magenis, a politician who sat in the Irish House of Commons and British House of Commons for Enniskillen.
Agnes Smith Greig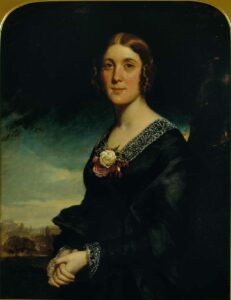 This portrait of Agnes Smith Greig (1812-1891) by Daniel Macnee dates to 1840 and shows her before a backdrop of Stirling Castle and St. Ninians where she married advocate and sheriff, Alexander Stuart Logan the very same year. The painting was bequeathed to the Smith by her daughter, Agnes Maciver Logan in 1928. Speaking of HerStories…Agnes Maciver Logan had her own stories to tell! She penned two works under the pseudonym, Katherine Steuart, By Allan Water: The True Story of an Old House and Richard Kennoway and His Friends, the former chronicling the lives of Stirling-area families.
Agnes Maciver Logan was one of seven children born to Agnes Smith Greig and her husband. In the process of 'mining' the Smith's collection, we re-discovered images of her entire family that had previously been unlinked in the museum database. To be sure, Agnes' family was no stranger to portraiture in all its forms. In 1843, just four years after the invention of photography, Agnes Smith Greig and her husband were captured via the burgeoning calotype process by prominent Edinburgh artist duo, David Octavius Hill & Robert Adamson.
Georgina Smith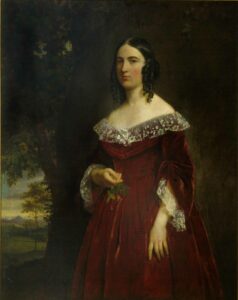 Georgina Smith (1821-1846) married Walter Paterson, a merchant of the East India Company on 8 November 1842 in Barony Parish, Glasgow. Unfortunately, Georgina passed away just a few years later in 1846, the same year that her portrait below by John Graham-Gilbert was completed. Smith was survived by generations of strong and talented women. Smith's daughter, Grace Chalmers Paterson was the co-founder and principal of the Glasgow School of Cookery, as well as an activist in the temperance and women's suffrage movements. Grace Chalmers Paterson's niece, Grace Tasker led a similarly remarkable life in Stirling. Tasker earned an MBE for her tireless efforts on the home front during World War I and it was Tasker who donated Georgina's portrait to the Smith in 1935!
Samantha has also made a curation related to her fantastic research which you can check out on ArtUK.