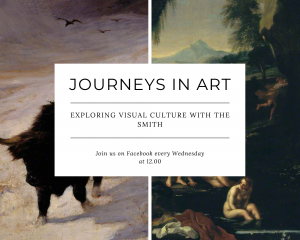 The Stirling Smith is launching a weekly art history video series beginning on 17 June. While the museum is closed we still feel it is important to produce engaging content for the community.  We hope that you will enjoy this introduction to art history series.
What was rebellious about the Impressionists? Why was Bonnie Prince Charlie often painted wearing tartan? What can cave paintings tell us about the invisible hands that created them? Each week we'll explore different aspects of history using artwork from museums and galleries all over the world.
Journeys in Art will consist of a 15-20 minutes presentation plus time for questions from our virtual audience. They will be broadcast via Facebook Live on our Facebook page Wednesdays at noon.  Please join us for our first exploration on 17 June!