Not much is known about John Ferguson. The photograph is from the Christmas Observer of 1928. He was born and raised in Stirling, and attended the High School, where the commemorative plaque, a recent gift to the Stirling Smith collections by Archie MacCallum, was put up after his death.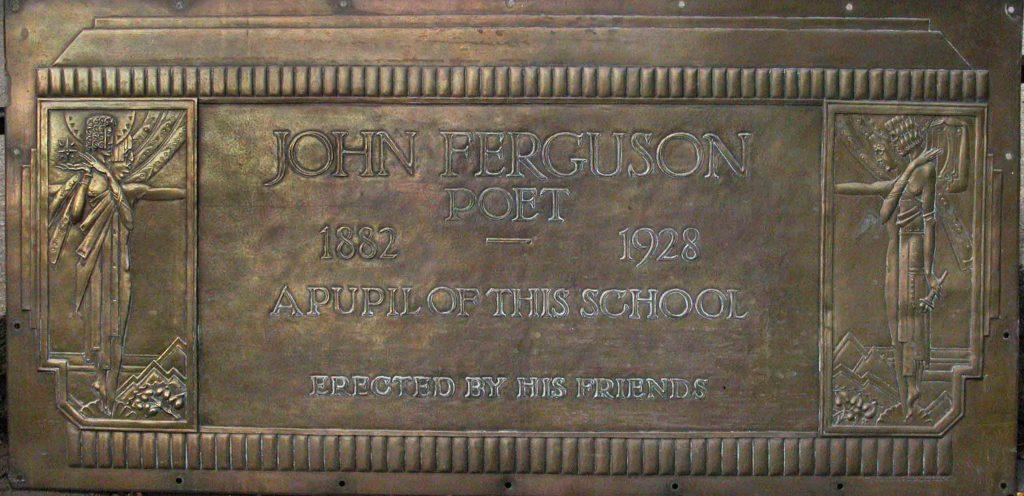 Such pieces are out of place in a modern school, but the art deco beaten brass plaque is the work of the renowned metalworker, silversmith and sculptor, Peter Wyllie Davidson (1870 – 1963). Davidson was born in Bridge of Allan, and for a period of 38 years, until he retired in 1935, was the chief instructor in metalwork at the Glasgow School of Art. He wrote books on decorative metalwork and leatherwork for his students and his work is highly prized.
Ferguson published a book of sonnets, Thyrea in 1912 which went through at least 14 editions in his life time and is still available as a free publication on the internet. The sub title, Sonnet Sequence from a Sanatorium, gives clues to his illness. Many of the other works concern circus performers and disadvantaged people, and are both compassionate and moving. The last sonnet, An Out of Work Waitress of Fifty on her Beauty Cabinet condemns the ageism of the era when job adverts stated "No one over thirty need apply" /Or "Must be under forty years of age".
John Ferguson's work is powerful, even today.