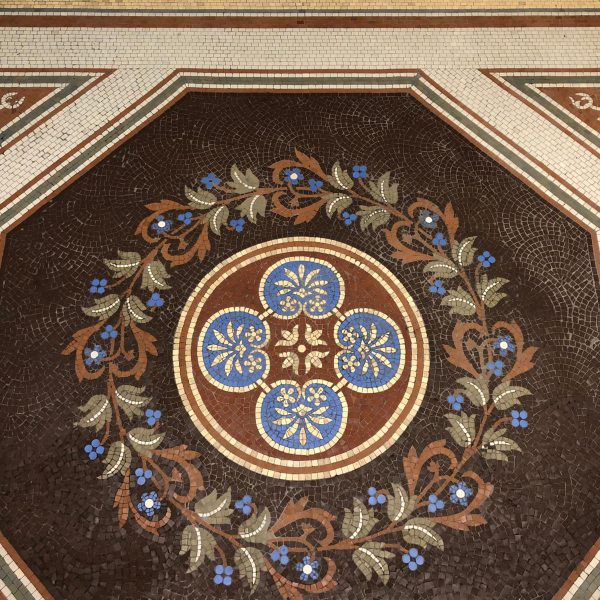 Heritage Talk: Historic Mosaic and Tile Floors with Darren McLean
Darren McLean has over 30 years of experience in the conservation field as a practitioner of traditional carpentry/joinery, lime mortars, tiles and masonry.
He runs a conservation business, focusing on the conservation and repair of historic decorative and structural timber, lime mortars, brick, stone and decorative plasters, mosaic and tessellated geometric floors. He has been a guest lecturer in conservation materials and techniques at Strathclyde University, and he teaches conservation courses around the world.
Uncover the history of beautiful tile and mosaic floors and learn how to care for them.
Since the 1860s it's been both affordable and popular to enhance our homes and public buildings with geometric tiles, with mosaic floors becoming commonplace soon after. Over a century and a half later, these hard wearing and beautiful floors are often still earning their keep. When these floors do go wrong, can they be fixed? Are the materials still available? Who has the skills?
Heritage building contractor and consultant Darren McLean has a breadth of experience in repair and conservation of historic buildings. He will be on hand to explain the history, performance and restoration of these wonderful floors.
FREE to Traditional Buildings Health Check members. Non-members can attend for a small donation.
 Book online at Eventbrite Or RSVP to steve@scht.org.uk
Description
Event Details
Date: 15th August 2019
Start time: 18:00
End time: 20:00
Venue: Smith Art Gallery and Museum
Phone: 01786 471917