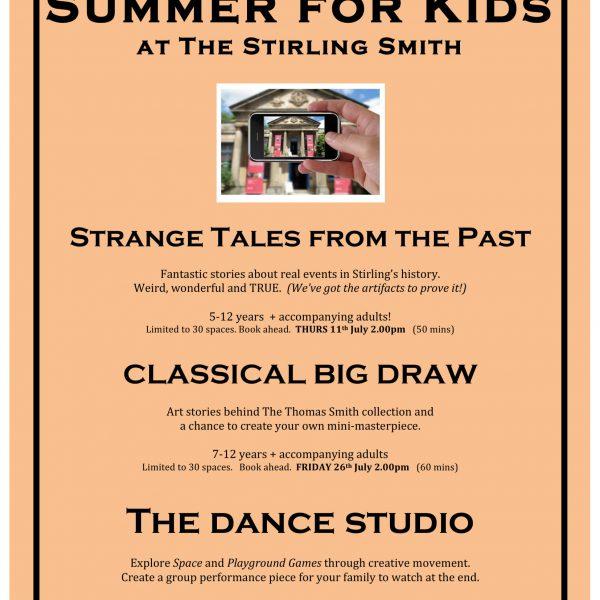 Summer For Kids @ The Smith
ALL TICKETS £4 – Payable at the Door – SUMMER for KIDS at The Stirling Smith
This Saturday is the start of a summer of fun for kids at The Stirling Smith Art Gallery and Museum.
The programme kicks off tomorrow, Thursday, 11th July. with Strange Tales from the Past.  Join storyteller, David Smith, for some astonishing but completely true tales of strange events from Stirling.Fifty minutes of cliff-hanging truths that will leave you astonished. What happened to the baby asleep in the grandfather clock?  What single object stopped Bonnie Prince Charlie from burning down the city off Stirling? Why did Robert Burns storm out of Stirling angry and what was his magic pen?
All this will be answered and more at 2.00pm on Thursday. Suited to 5-11 years but accompanying adults will love it too!  £4 pay at the door.
On Friday 26th July there will be a Classical Big Draw for young artists and Friday 2nd August The Dance Studio teaches a performance piece of creative dance for young folk.  More details and booking for limited spaces are online at The Stirling Smith and on their Facebook page.
Description
Event Details
Date: 11th July 2019
Start time: 14:00
End time: 15:00
Venue: Smith Art Gallery and Museum
Phone: 01786 471917