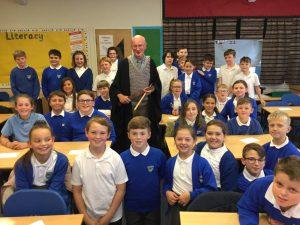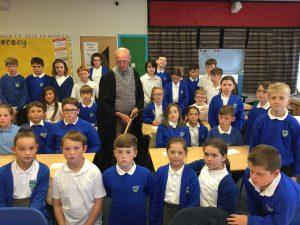 "Is this how bad it was in school in the old days, granddad?"  That's the question in the minds of children from Strathdevon School, Dollar.
Their teacher knew how rough it would get when she invited David Smith, Learning Officer at The Stirling Smith Art Gallery and Museum to relive life in school on day one of World War 2.
The scary teacher act is always immensely popular with children.  They discover that they will have come in from a separate boys' playground and girls' playground. Desks in their room have been re-arranged in rows facing front. Old maps and flags now adorn the walls. The fancy smart board is converted by Powerpoint to an old-fashioned Chalkboard.  No one dare breathe. Hands on laps. Backs into chairs, Eyes to the front.  Then it's packed with tables drills, grammar, history and geography facts.  All rounded off with writing using real pen and ink… and woe betide you if you are left-handed!
Children are so relieved when it ends and can't stop talking about how they narrowly avoided the strap. But strangely, they always vote it the best way to learn ever!