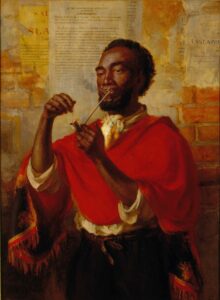 The Guardian's Great British Art Tour began today.  This new series, created in partnership with ArtUK, will showcase some of the great works of art housed in collections across Britain. The series is a great way to do a little art exploration from the safety of our homes.
The work of art that launched this new series is none other than The Smith's very own The Pipe of Freedom by Thomas Stuart Smith.  As many of our visitors know, this painting commemorates the end of the American Civil War.  It depicts a black man lighting a tobacco pipe in front of wall onto which the Emancipation Proclamation has been pasted.  More history on the painting can be found in the Guardian article written by our Collections Manager, Nicola Wilson.
Check out the article here and join in the conversation!