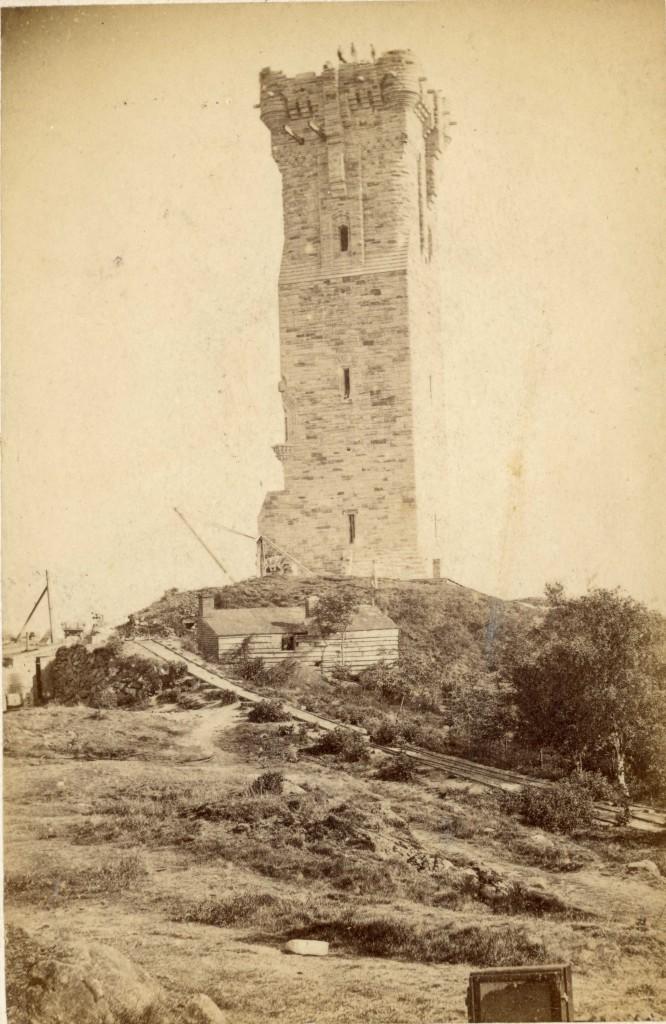 This is the Year of Architecture, when the National Wallace Monument will be celebrating the 155th anniversary of the laying foundation stone, 24 June 1861.  It was one of the biggest public events in 19th century Scotland, and was followed by one of the longest building programmes.  The Monument was completed 8 years later in 1869.
The image of the incomplete monument was taken by pioneer Stirling photographer Alexander Crowe of 33 Murray Place.  Although small, it clearly shows three workmen near the top of the tower, the builder's hut beneath and the rail for carting the stone to the top of the Craig.
When the money for the construction ran out, the tower sat incomplete for years, with a thatch covering provided by Hillhead Farm, Cambusbarron.  In 1865 with the continuing embarrassment of an unfinished structure, it was proposed that the project should stop and the materials be sold at auction.  A further fund raising campaign secured the completion.
This rare photograph is from the estate of the late Henry Robb, solicitor, ornithologist and Friend of the Smith.  A sale of his fine collection of Stirling history books will be held in his memory on 12 November, in aid of the Smith purchase funds.