The Public Catalogue Foundation which worked with the BBC to photograph every oil painting in public collections in Britain has changed its name and website to become Art UK. As part of the re-branding process, the Smith's outspoken Cat-in-Residence, Oswald C. Smith (@SmithSuperCat) gave an interview on works of art, paintings of animals and museum management.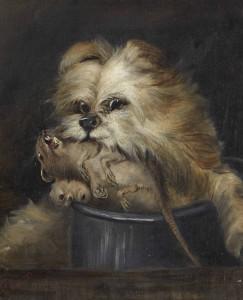 This painting in the Stirling Smith collections is perhaps one of the more unusual ones. By the artist C Pelham, it is small, has been in the collection for at least 120 years and shows the prowess of a terrier killing a rat. It has been on exhibition only rarely.
At one time, when rats were more of a problem than what they are now, such paintings were popular and highly prized by the dog owners who commissioned them. They were never considered as great works of art. One astute major donor to the National Galleries of Scotland insisted that his gift of £55,000 was dependent on the painting of his Dandie Dinmont terrier Callum, with dead rat, being shown in the main gallery in Edinburgh in perpetuity. The work is by animal artist is still on show in Edinburgh among the work of the great artists of the world.