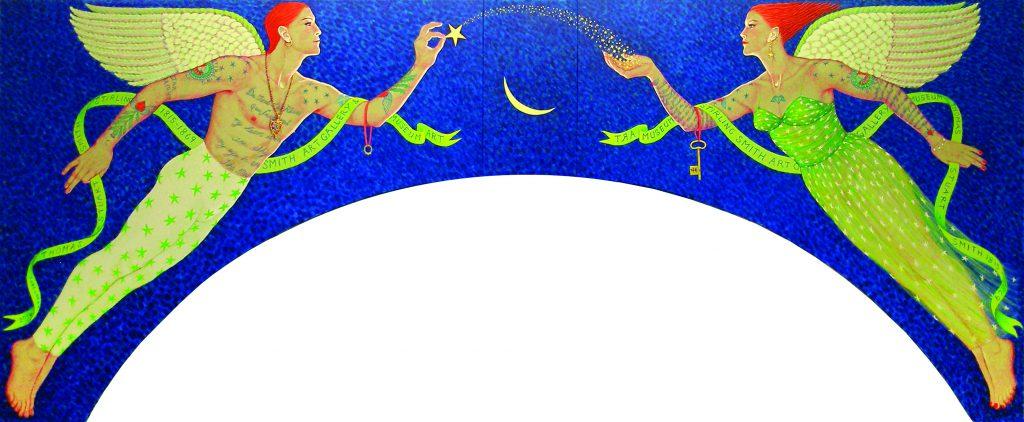 This year is the 140th birthday of the Stirling Smith Art Gallery and Museum, the gift of Thomas Stuart Smith (1814-1869) to his family town.  To celebrate it, artist June Carey RSW, also a native of Stirling has gifted two angels who will fly into a permanent position over the door of the main gallery.  The angels share a gold star and star dust between them, in homage to T. S. Smith's Art Gallery, and carry significant objects from the Smith's collections.
The male angel has the Guildry Ring of 1340 over his left arm.  The female angel has the Key of Stirling over her right arm.  Both have images of the Stirling Heads on their arms and are tattooed with June Carey's love poems.
June Carey has spent months perfecting the size, shape and content of the mural to suit the spaces in the Smith's archway.  Elspeth King, Director of the Stirling Smith said
'Paintings for the architectural spaces in public buildings in Scotland are a rarity.  With this work, the artist has complemented the classical architecture, given meaning to the collection, beautified the building and thanked Thomas Stuart Smith in the only way in which a good  artist can be thanked – with a beautiful work of art, which will endure.'
Colin O'Brien, Chair of the Smith Trustees and a member of Stirling Guildry said
'Many objects from the ancient Guildry of Stirling are in the Smith's collections, and we deeply appreciate seeing the importance of the Guildry symbolised in this precious Stirling painting.'
An outstanding Scottish artist, June Carey has a lifetime's work behind her, which she has drawn together in a special book, The Art of June Carey: Seeing through the Dreams.  This will be launched together with the Smith mural at 7.30pm, Friday 28 February.  Prices are £16.99 (paperback) £22.99 (hardback) and £120.00 (limited edition hardback with etching).
This is an opportunity to buy an important work encompassing a slice of Scotland – and Stirling's – art history in a year which his significant for all of us.
The installation costs of the mural have been met with money from the Janey Buchan Memorial Fund. Janey Buchan (1926 – 2012) was a Trustee of the Stirling Smith, Member of the European Parliament for Glasgow 1979 – 1994, and was actively involved in all of the creative arts – music, theatre, film making and museums and galleries.