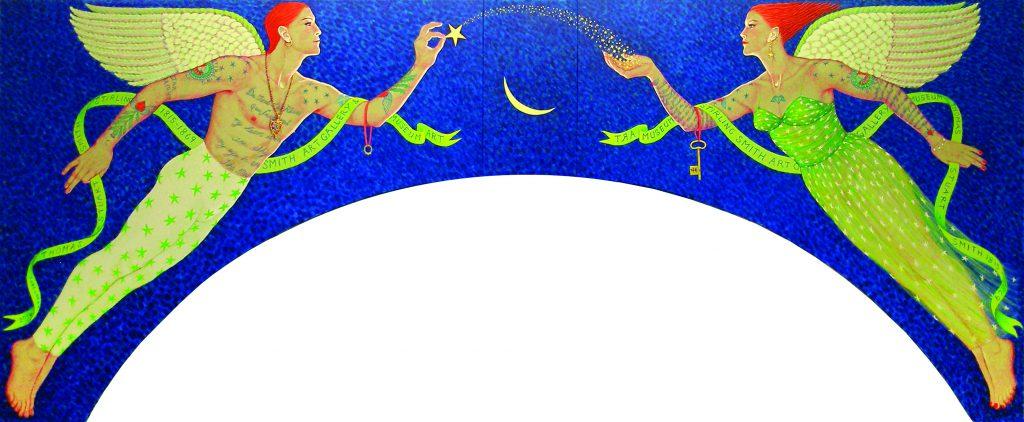 An important new work of art is installed in the Stirling Smith later this week.  'A Heavenly Gift' has been made by artist June Carey, who lives and works in Stirling, to celebrate the 140th birthday of the Smith in 2014.  Thomas Stuart Smith, also an artist with Stirling connections, bequeathed his fortune, from which the Smith was built.  June Carey's work will decorate the arch above the doorway into the central gallery.
June Carey has spent months perfecting the size, shape and content of the mural to suit the spaces in the Smith's archway. Paintings for the architectural spaces in public buildings in Scotland are a rarity.  With this work, the artist has complemented the classical architecture, given meaning to the collection, beautified the building and thanked Thomas Stuart Smith in the only way in which a good  artist can be thanked – with a beautiful work of art, which will endure.
Two angels soar in the arch, exchanging a shower of golden stardust.  Both carry ribbons with the name and dates of T.S. Smith, and have tattoos of the Stirling Heads on their arms.   One angel has the Guildry Ring of 1360 over his arm; the other has the key of Stirling, surrendered to Prince Charles Edward Stuart in 1746, symbolising the history of the City.
Installation costs have been met by the memorial fund of Janey Buchan (1926-2012), Smith Trustee and patron of the arts.