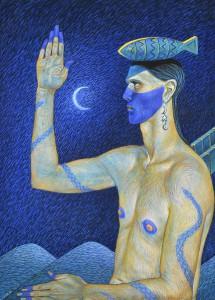 The June Carey exhibition continues at the Stirling Smith until 10 January.  Born, raised and still resident in Stirling, June Carey is a Scottish artist with and international reputation.  The Smith has purchased this work in pastel from the exhibition, with the support of the Stirling Common Good Fund.  The deep blue colour which characterises many of her works was inspired by a residency in Mexico, and the ear rings which the subject wears in this work were purchased there.
June Carey is an artist whose work is informed and suffused by world cultures.  She is a collector and interpreter of cultural symbols and icons.  Pieces of significance appear in her works and symbols long before tattoos achieved their current popularity, were expressed as body decoration in her paintings.  A June Carey design would be a real challenge to a contemporary tattoo artist.
Many of her paintings have a dream-like quality and feature serene angelic figures within the cosmos – the heavens, earth and seas.