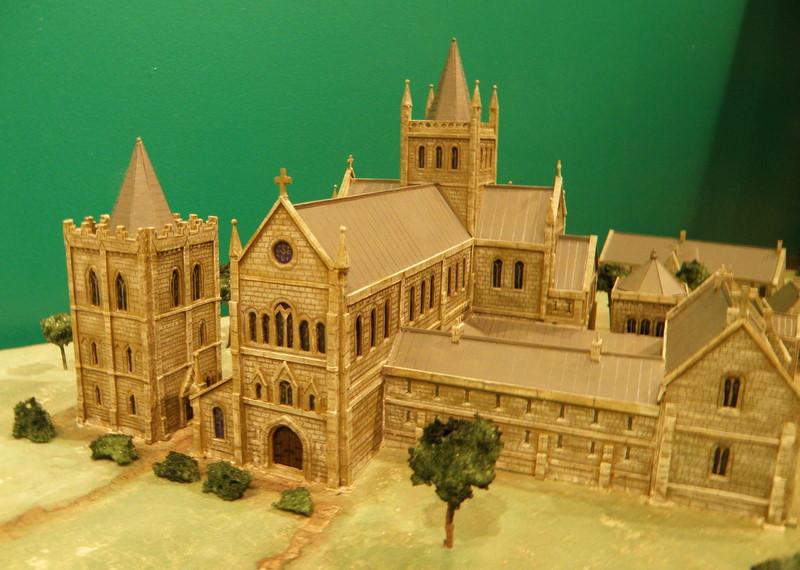 The recent archaeological investigations at Cambuskenneth Abbey have highlighted the importance of the ruins as a site of great significance. Archaeologist Murray Cook rightly describes it as 'one of Stirling's most overlooked jewels.' When it was functioning as a monastery, before the Reformation in 1560, it was part of the international Augustinian order. Sister foundations included the Abbey at Inchcolm, the Priory of St. Serfs at Loch Leven (both the source of major histories of Scotland in the 1440s), the Cathedral of St. Andrews, the priory of Inchmahome in the Lake of Mentieth, and the Abbey of Scone, where the coronation stone was kept. The Augustinians in Scotland were the keepers of national identity.
Cambuskenneth Abbey was a major building complex, as this model in the Smith shows. The Stewart kings relied upon the services of the Augustinian canons as administrators, and legal advisors.
After the reformation in religion, the abbey became a quarry for the town, and buildings such as, Mar's Wark benefited from it. Its treasures were scattered. The great Cartulary of the abbey survives in the National Library of Scotland. The famous alphabet stone is in Dunblane Museum. The material from the 1860s excavation is in the National Museum.
We should make sure that all recent finds stay in Stirling.