Stirling has a lot to be proud of in the field of history and heritage. At one time, from the late 19th to the mid 20th century, it was a printing and publishing town. However, it had a really early association with printing when Robert Lekpravik moved his printing press from St. Andrews to Stirling in 1571.
The printing press was an instrument of social change, and could be a dangerous weapon. It was Leprevick's translation of George Buchanan's 'The doings of Mary Queen of Scots' which led to the execution of that queen in 1587, and for him, Stirling was a place of safety in 1571.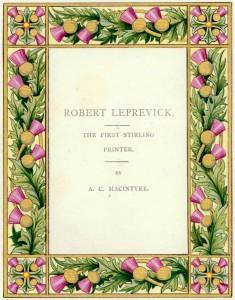 This book is one of thirty copies printed for private circulation, produced to commemorate the 300th anniversary of Leprevick's time in Stirling, in 1871. It includes fourteen leaves with illuminated borders. The title on the first and second pages are letterpress printed. Every other page is mounted with text printed by 'The Stirling Observer'. Some of the illuminations are heightened with gilt. The cover is bound in contemporary half morocco, making it a luxurious celebration of Stirling's place in the earl history of printing. The book was spotted in a London saleroom by Smith benefactor Alex Neish, and purchased with Stirling Common Good funding.