Today's story is about the up and coming generation of Stirling artists.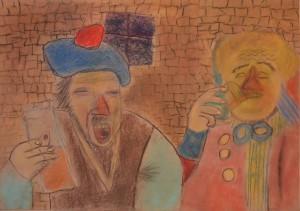 This painting by Liam McQueen of Riverside Primary School is one of many in the Great Art Quest exhibition at the Stirling Smith Art Gallery and Museum which takes its inspiration from Robert Burns' great poem Tam O' Shanter.
120 children from four different primary schools have been working in different media to express their response to Tam O' Shanter, and the Great Art Quest exhibition runs until 28 February. Liam is too young to experience alcohol, but he has caught the spirit of the poem.
The preparatory work for the exhibition production was financed by a scheme created and managed by the Children and the Arts Foundation in partnership with the Prince's Trust. The organisation is London–based, and the Smith was the only gallery in Scotland to win an award this year.
In celebration of this award, the Smith is running a Scottish Evening next Wednesday, with songs by the Callander Ladies' Chorale, poetry from Herald Poetry Editor Lesley Duncan and Smith Poet in Residence John Coutts, a special performance of Tam O'Shanter, seasonal food and a viewing of the exhibition. It will offer the chance to understand Burns' special relationship with Stirling.