This exhibition, from Stirling – born artist Peter Yates, is part retrospective and part new work. Some of the works have been inspired by wind farms. Although wind farms are Scotland's fastest growing renewable energy technology and are prominent on the landscape in many parts of Scotland, few artists have found them to be a source of inspiration. Many people consider them to be a blot on the landscape and a disadvantage to tourism.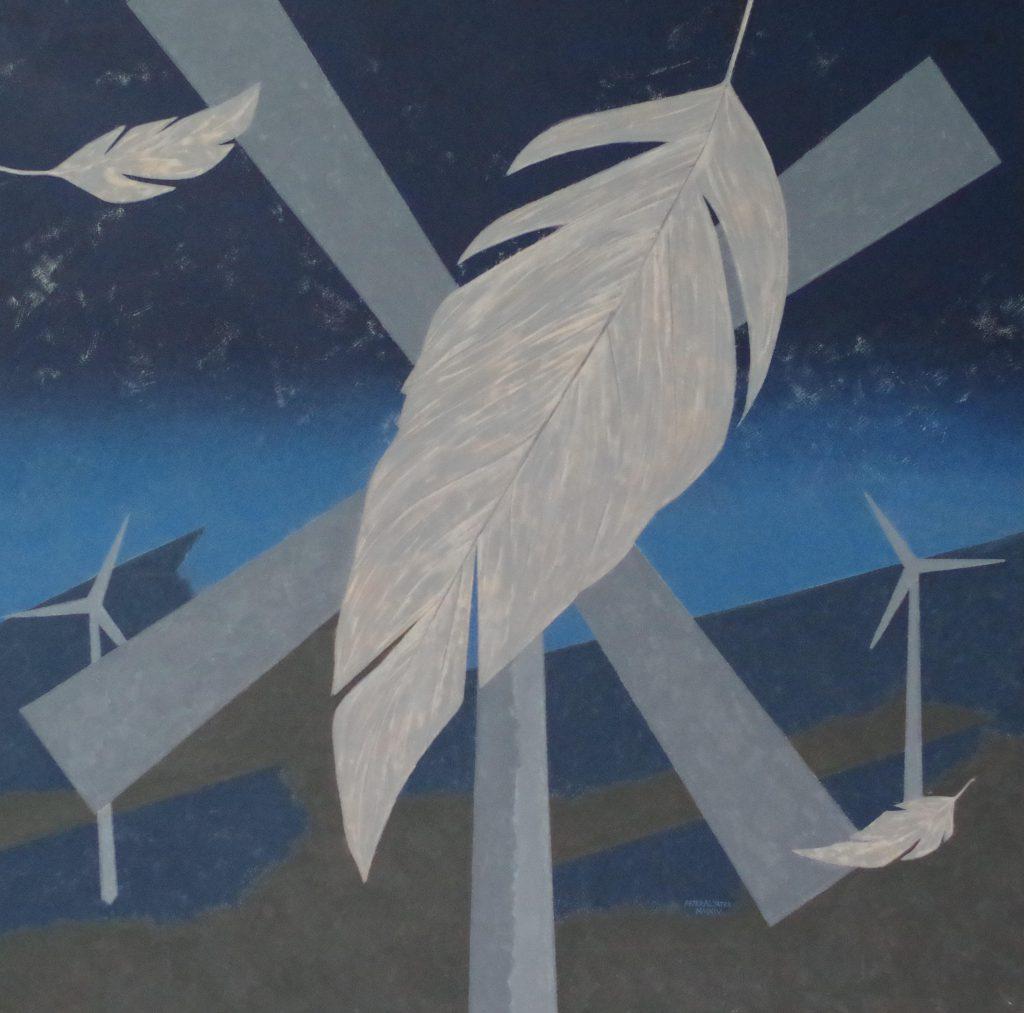 Perhaps this has something to do with the newness of the technology. The Dutch Masters, from Brueghel the Elder to Frans Hals, Rembrandt and Van Gogh had no issues with the windmills which graced the landscape of the Netherlands. Although only 1000 windmills survive from the estimated 10,000 there in the 1850s, tourists, inspired by generations of Dutch landscape painters, travel to the Netherlands in the expectation of enjoying the sight of windmills there.
Through his art, Peter Yates is inviting the viewer to look at the landscape and consider it again. For the most part, Yates works on calm and peaceful images involving the light of the seasons and seeks to engage with beauty. He works on the principle that art reveals beauty and peace to the viewer.
From his home in Callander, Yates is spoiled for choice of subject. He writes:
'These drawings and paintings relate to moments in time and space through the formal arrangement of symbols and imagery. Light will momentarily pause the poetic rhythm and cycle of time and a sense of quietude prevails.
Artists should strive to create beautiful and thought provoking work which can redress the balance from the continual exposure to the often superficial products from our synthetic age.'
Speaking for the Stirling Smith, Chairman of the Smith Trustees, Colin O'Brien said:
We are pleased to host this exhibition for an artist who is dedicated to and inspired by the Stirling area. Peter was educated at the Edinburgh College of Art by Cumming, Phillipson and Blackadder, but his first art teacher was Derek Clark in the High School of Stirling, who is still with us at the age of 102.
The works are in acrylics or oils, and all are for sale in the price range of £350 – £2000.
The exhibition will be opened by Fergus Ewing MSP, Minister for Business, Tourism and Energy, at 10.45am on Friday 23 January,
More about PETER A L YATES
Born Stirling 1955
1973-78 Edinburgh College of Art
1977 Royal Scottish Academy student award winner
1978 Post Graduate award with distinction. Travelling scholarship to France, Italy and Sicily.
1984-85 Scottish Arts Council support grants
2005, 2007, 2009 visits USA
2008 British Council visit to China
ONE MAN EXHIBITIONS
369 Gallery Edinburgh
Perth Theatre Gallery
University of St. Andrews
Eden Court Theatre, Inverness
University of Stirling
Aberdona Gallery
Galerie 'La Lumiere', Paris
Chapelle des Penitents, St. Pons France
Galerie 'La Toupie', Paris
GROUP EXHIBITIONS
New 57 Gallery, Edinburgh
Lyth Arts Centre
Third Eye Centre, Glasgow
Scottish Art Two Generations – Edinburgh
Smith Biennal, Stirling
Greenock Arts Society
RSA, SSA, RSW Centenary Exhibition
Paintings in various public and private collections in Europe and the USA. Graphic work undertaken for various clients including Ardoch Consulting and The Edrington Group.