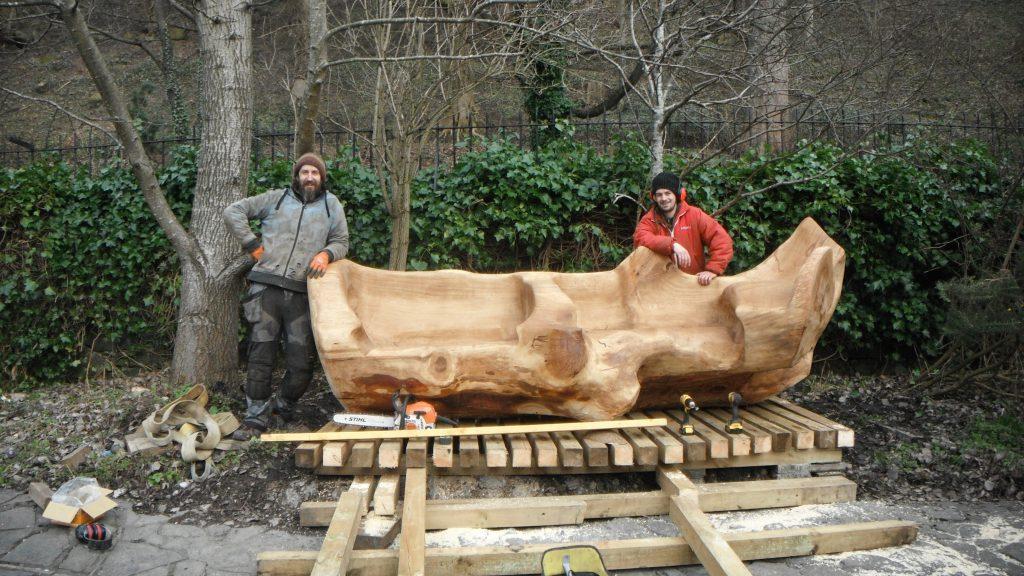 With the arrival of good gardening weather, why not take a break to visit Ailie's Garden at the back of the Stirling Smith Art Gallery and Museum? Established by the Friends of the Smith in 2002, it is still one of Stirling's hidden treasures. It is tended every Thursday morning by a team of skilled garden volunteers, working under the guidance of organic gardener Martin McCrae and it is looking its best.
The garden is named after Ailie Maclaurin (1913 – 2000) of the Stirling Homesteads, a keen gardener, tourism entrepreneur, nurse and midwife.  It serves the Smith as an open-air gallery where one can explore the history of Stirling through the various exhibits. It is planted to encourage wildlife and incorporates a small kitchen garden and compost demonstration area. There are musical instruments and games for children.
As some of the original wooden seats of 2002 had decayed beyond repair, the Friends of the Smith commissioned a new piece from David Mackay of Sticks and Stones Furniture. Shown here with its creator and his colleague on the day of delivery in February, it a seat, hand-hewn from a large oak tree.  David Mackay produces pieces that are carbon minimal in the construction, using storm-damaged dead-fall wood in his secret workshop, 6 miles from Stirling.