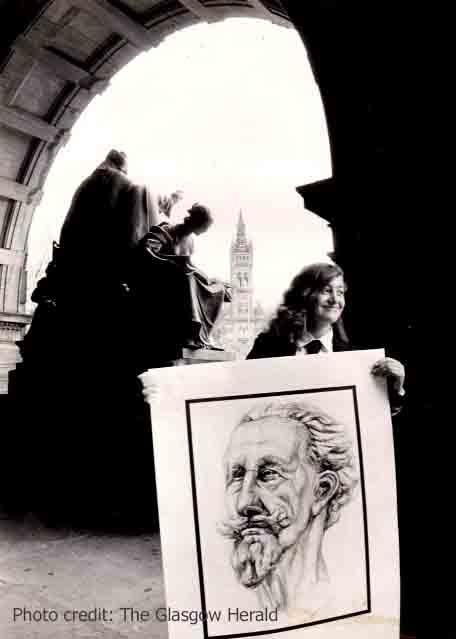 The prestigious Kelvingrove Children's Art Competition has been running since 1904. Open to young people between the ages of 3 and 18, it generates excitement every year. Shown here, wearing her Denny High School uniform is 16 year old Greer Ralston with the drawing which won her the Gold Medal in 1983. Children must draw a work or object in the Kelvingrove collection, and Greer selected the portrait head of Robert Bontine Cunninghame Graham by the sculptor Jacob Epstein.
Greer's accomplished drawing was outstanding and set her on course to become an artist, studying at the Glasgow School of Art. At present, her 'Passions and Peonies' exhibition is drawing crowds to the Stirling Smith Art Gallery and Museum to admire her energetic large scale paintings of flowers and horses, for the artist comes from an equestrian family.
When she selected Graham as her subject in 1983, Greer had no knowledge of his life as a horseman and connoisseur of horses. Like many another artist before her – Sir John Lavery, James McBey and William Strang – she was struck by the distinguished features of 'Don Roberto'. Kelvingrove's more famous painting of him is by Lavery, whose life he saved by intercepting Lavery's runaway horse.
All of the works of 'Don Roberto' can now be read in the Stirling Smith's Graham Library, open every Thursday and dedicated to his life and achievements.