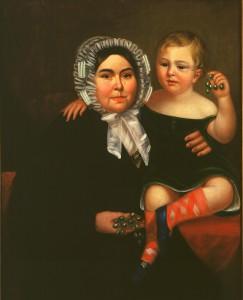 We know little of the details of this mother and child portrait, which is in the Smith collections and is currently on show in the Stirling Heads Exhibition.
 Margaret Shirra (nee Low) was the wife of James Shirra (1812-1888), a Stirling draper.  The portrait was painted by Stirling-born artist Sir George Harvey, President of the Royal Scottish Academy, in about 1840, when the family moved in to their new house in Albert Place.
 Like many young women of her day, Margaret is in mourning dress, but the white much and ribbons indicate that the death of her loved one was not recent.  Victorian women wore different degrees of mourning as a visual indication of their grief.
 Her son wears a rich green velvet smock and smart tartan socks, possible from the family drapery or Drummond's Tartan Shop.  Boys were not 'breeched' or put into trousers before they reached the age of two. 
The portrait is a charming family picture from the pre-photography era.