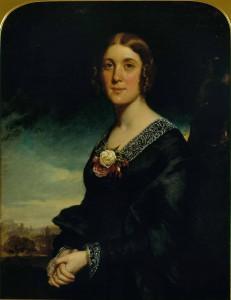 For the next few weeks, portraits of Stirling people from the Stirling Smith collections are on show in the Smith.  This is the engagement portrait of Agnes, daughter of the Reverend Christopher Greig of St Ninians Parish Church.  Aged 28, she married the advocate Alexander Stuart Logan.
The painting is by two of the most eminent Scottish artists of the day, and both were Stirlingshire born men.  Sir Daniel Macnee from Fintry was regarded as a great portrait painter, and he painted the figure. The background, showing the landscape of St. Ninians and the church tower, was painted by Sir George Harvey, whose family roots were in the village.
The portrait is tinged with sadness, as Agnes is wearing mourning dress, relieved only by a bit of white lace.  She was one of twelve children, and the death of young people was a common occurrence at that time.  Agnes herself lost both a son and a daughter in infancy, and their portraits too, one in oils and the other sculpted in marble, are in the Stirling Smith Collections.  Agnes herself died at the age of 79 in 1891.