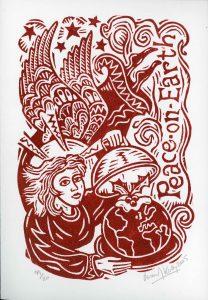 This hand -printed Stirling Christmas card of 2005 is one of many in the Stirling Christmas exhibition at the Stirling Smith Art Gallery and Museum, and is the work of artist Owain Kirby.
Although Owain was born in Greenock and spent his childhood in other parts of Scotland, after graduating with a first- class honours degree from Duncan of Jordanstone College of Art in Dundee, he came to live in Stirling and has spent his creative life here.
Since 1996, he has provided illustrative images to accompany exhibitions and publications in the Stirling Smith, from the letterhead onwards. Having an artist with an understanding of history who is committed to producing quality illustrations is an asset to any museum. Having one who lives in and loves Stirling is beyond price. His illustrations contributed to the success of the City Bid in 2002. The Smith has benefitted with his illustrations produced for the Wallace exhibition (1997), Ailie's Garden (2002), the George Buchanan exhibition (2006) and many others, including the new display for the world's oldest football.
Owain Kirby is part of the contemporary arts scene in Stirling, working without personal recognition. The compensation is that he is one of the few artists who does not need to sign his work, as his style is unmistakeable.