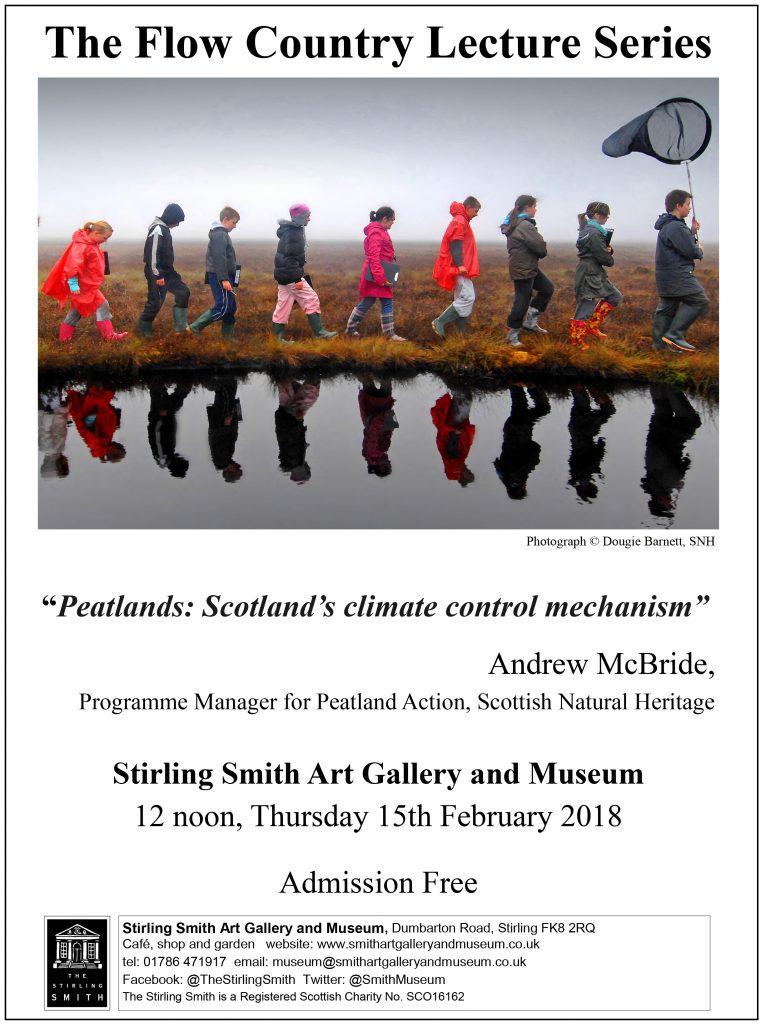 The series of talks by specialists continues on Thursday 15th February when at 12 noon, Andrew McBride, Peatland Action Programme Manager will speak on Peatlands: Scotland's climate control mechanism at the Stirling Smith Art Gallery and Museum. Andrew is based at Redgorton, Perthshire, with Scottish Natural Heritage.
For those attending the talks, it has been a learning curve. Last week, Rebecca Crawford, Peatlands for People Project Officer, based in Stirling, was speaking on Wester Moss, the Bog Squad and Butterflies. The existence of Wester Moss in Fallin, near Polmaise 3 & 4 Pits, was news to some of the audience. It is a raised bog, as opposed to the blanket bog shown here. A conservation initiative with many volunteers is restoring the life of the bog by removing the trees and the scrub. This relatively small bog captures an estimated 600,000 tons of carbon beneath its mosses and waters, transforming it into peat. An apparent 'wasteland', it supports 134 different species of butterflies and moths, as well as creatures such as the bog sun jumping spider. The latter is found in only five places in Scotland, and Wester Moss is one of them.
The Flow Country touring exhibition is presented by the Peatlands Partnership, working with the Heritage Lottery Fund, the RSPB, Scottish Natural Heritage, the Highland Council and the Environmental Research Institute. It runs until 11 March.