Since the peace treaty was signed on Armistice Day, 11 November 1918 we have remembered the dead of the Great War, 1914-1919, every November since.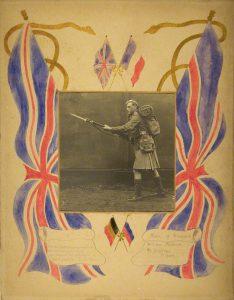 Private William Rourke of Caledonia Terrace, St Ninians was one of thousands of young men in Stirling who answered the call to fight against Germany in 'the war to end all wars.' He signed up for the 1st/7th Argyll and Sutherland Highlanders, based in Ripon.
He lost his life at the Battle of the Ancre, 15 November 1916, which was the final British attack of the Battle of the Somme. At the tragically young age of 23 he was one of the 23,274 soldiers in the British Army, killed between 11 and 24 November that year.
The photograph is unusual in that he is presenting his bayonet. His family have decorated the mount with the flags of the Allies, and verse to say 'His King and Country called him/ The call was not in vain/ On Britain's Roll of Hour. You'll find this Hero's name.'