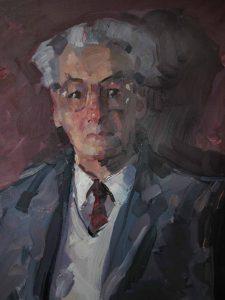 Hans Meidner was a well-known and respected figure during his life in Stirling.  He was German by birth but his anti-Nazi activities forced him to flee, and he became a scientist in South Africa, where he was a strong supporter of Nelson Mandela and the anti-apartheid movement.
 Hans came to Stirling as Professor of Biology at the new University of Stirling in 1970.  He served on major university committees.  Specialising in the study of stomata, the tiny holes in plant surfaces which open and close to regulate the water movement, he published many research papers.  Most people knew him as "the professor on the big green Sunbeam" motor cycle. 
 As he lived in Albert Place opposite the Smith, he was involved in the early organisation of the Friends of the Smith. Founded 40 years ago, the Friends saved the Smith from certain demolition, and have worked tirelessly since then, to improve and sustain the building and its collections.
 This work was painted at a Friends of the Smith lecture by artist James Fullarton, as a demonstration of the art of capturing a likeness.  Purchased by the Friends, it is now part of the permanent collections.
The Friends of the Smith 40th anniversary exhibition runs until 5 October.