Some of the best contemporary silver made in Scotland is currently on show in the Silver of the Stars exhibition in the Stirling Smith, sponsored by the Edinburgh Incorporation of Goldsmiths.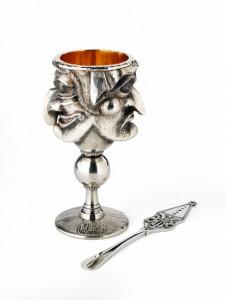 The local star of the show is the work of Dunblane – based silver and goldsmith Graham Stewart who created this absinthe goblet and spoon for fashion designer Alexander McQueen. The ritual of drinking absinthe involves pouring it through sugar cubes placed on a pierced spoon. The goblet had to be carved, cast, soldered, chased and chiselled.
Graham, who trained at Gray's School of Art in Aberdeen, has had a workshop and gallery in Dunblane since 1978. He is an artist and sculptor with an international reputation in his field and his business in the High Street (are there any other towns in Scotland with a goldsmith on the High Street?) contributes to making Dunblane a very special place to visit.
Graham has undertaken work for private and public collections, including those of HM the Queen, the Scottish Parliament, Bute House, the Victoria and Albert Museum, Birmingham Art Gallery and Museum, Aberdeen Art Gallery and the British Embassy in Washington.