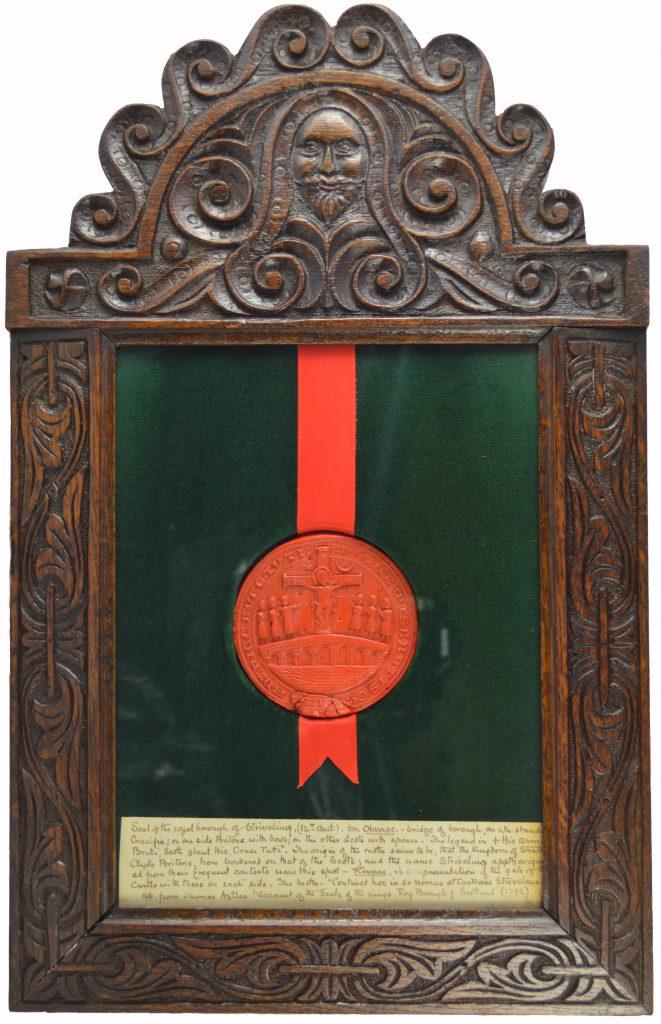 This display box of carved oak contains a wax copy of the seal of Stirling. It was found at auction by Friend of the Smith Dr Robin Campbell and is a recent purchase for the Stirling Smith courtesy of the Stirling Common Good Fund.
The seal was appended to all official documents issued by the Royal Burgh of Stirling for centuries, and carries the Latin inscription:
 In this is contained the Castle and Bridge of Stirling
Here stand the British saved by their arms; here the
Scots, saved by the Cross
In other words, God is on the side of the Scots, and the invaders are there by force only. In the 19th century, the Stirling Seal was remembered by a little poem:
The Britons stand by force of arms
The Scots are by this cross preserved from harms
The castle and the bridge of Stirling town
Are in the compass of this seal set down
Famously, it was William Wallace who repelled invaders at the Battle of Stirling Bridge, 11 September 1297.
The matrix from which this seal was made was recently examined by an expert from the National Museums of Scotland, and it was found to be original, probably dating to 1296.