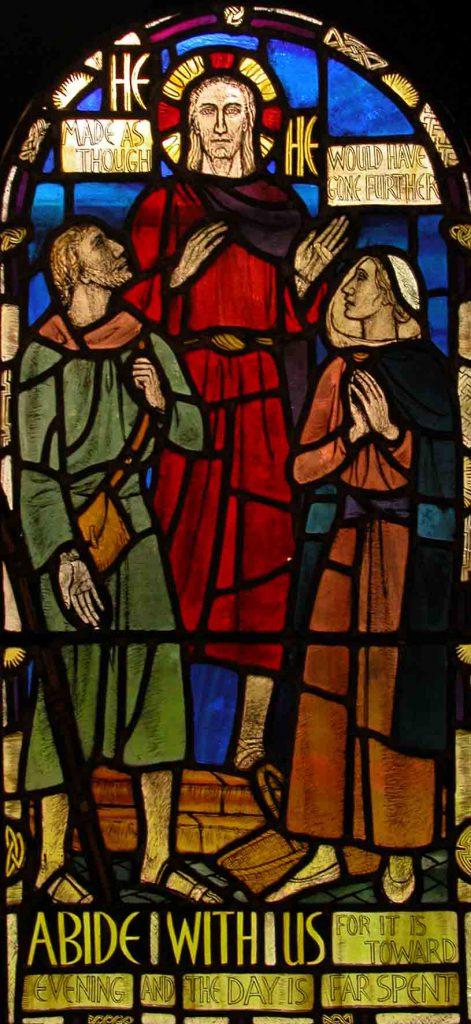 The story of the resurrection of Christ is often told through the incident mentioned in the Gospel of Luke, where two pilgrims, on the way to Emmaus on the evening after the tomb of Jesus is found empty, are discussing the matter. They were met by Christ in the guise of a stranger who rebuked them for their unbelief. The pilgrims invited the stranger to eat with them when they reached Emmaus. When he broke the bread, "their eyes were opened" and they immediately recognised him as Jesus, before he vanished. The pilgrims hastened back to Jerusalem to spread the news of the resurrection.
This story has been popular with artists throughout the ages. Here, it is depicted in a 1928 studio panel by the stained glass artist Mary Isobel Wood (d. 1969) in the Stirling Smith collections.
One of the most famous paintings of the supper at Emmaus is that by Rembrandt in the Louvre in Paris. The Stirling Smith has a copy of this too, made by Thomas Stuart Smith, who bequeathed his paintings and money to establish the gallery in Stirling in 1869. Many artists perfected their skills by copying the old masters, and there are several examples of this practice in the Smith collections.