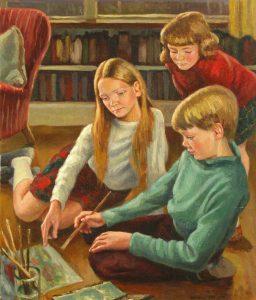 James Robert Wallace Orr (1907-1992) was a well-known Scottish artist who trained at the Glasgow School of Art, 1929-33.
Apart from war service with the RAF, he earned his living as an artist, working in Glasgow, Kirkcudbright, Helensburgh and Prestwick. He spent the last ten years of his life at Moorgait, Kippen.
'The Young Artists' is from this period of his life. For many years it hung in Gargunnock Primary School, and it is a recent gift to the Stirling Smith collections. Can any Observer reader identify who the young artists are, and what they are doing now?
Although the Stirling Smith has a good collection of local portraits, they are of older people. Not many commissioned portraits of children have come into the collection, and this painting is a welcome addition.
J. R.W. Orr was also a skilled engraver. His work is represented in the City of London, the Guildhall Gallery, City Hall, Aylesbury, the Hunterian, Glasgow and the University of Stirling, as well as in the Smith.