Today's object from the Stirling Smith collections is an advertising card for the firm of George Thomson, Carriage Builder, issued at the Edinburgh International Industrial Exhibition of 1886 and showing two of his carriages. It is a recent gift to the collections from Mrs Jane Millar.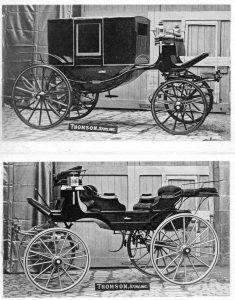 The firm of George Thomson started in the Craigs in the early 1800s, in a small way, and grew to become a major employer within a significant industry in Stirling. By the time when the business passed to the second generation, Thomson had forged a partnership with the Glasgow firm of Buchanan and moved to large purpose built premises in Orchard Place. Thomson used each of the great exhibitions – London in 1851 and 1862, Dublin in 1865, Edinburgh in 1886, to extend his market and output. An addition to the coach works in 1860 was a show room housing 100 carriages.
Thomson exported not only his vehicles throughout the Empire; many of his former apprentices and journeymen set up their own businesses in Australia, Canada and India.
Thomson built many of the first railway carriages in the 1850s. With the advent of motor vehicles, the firm diversified into building cars to order and by 1908, the grandson of the founder, James Thomson, was also Provost of Stirling.