Currently, the Scottish Society of Architect Artists members are showing their works at the Stirling Smith. The SSAA, founded in 1987, currently has around 90 members drawn from the architectural profession, and those who have worked in architecture in Scotland. The Society also maintains strong links with other European societies of architect artists in France, Germany, Italy and Poland.
The SSAA aims to reinforce the close relationship between art and architecture, providing opportunities to display and sell artworks by members, many of whom were trained in schools of architecture associated with art colleges in Scotland, and who remain interested in the visual arts besides architecture – drawing, painting, sculpture, photography, print-making and experimental art.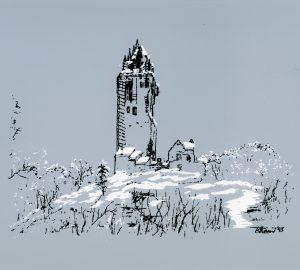 The exhibition has works showing some of the great buildings of the world – the Dodge's Palace, Venice, the Grande Palais, Paris, buildings in Bilbao and Siena – and many of the iconic buildings of Scotland. Naturally, the Wallace Monument, the only Stirling building, is among them, painted by architect Peter Allam in winter.
In this Year of Architecture we should remember the achievement of John T Rochead who gave us the National Wallace Monument, much of Glasgow's West End and many fine buildings throughout Scotland. The Wallace Monument is a piece of visual shorthand for Stirling, recognised world – wide.