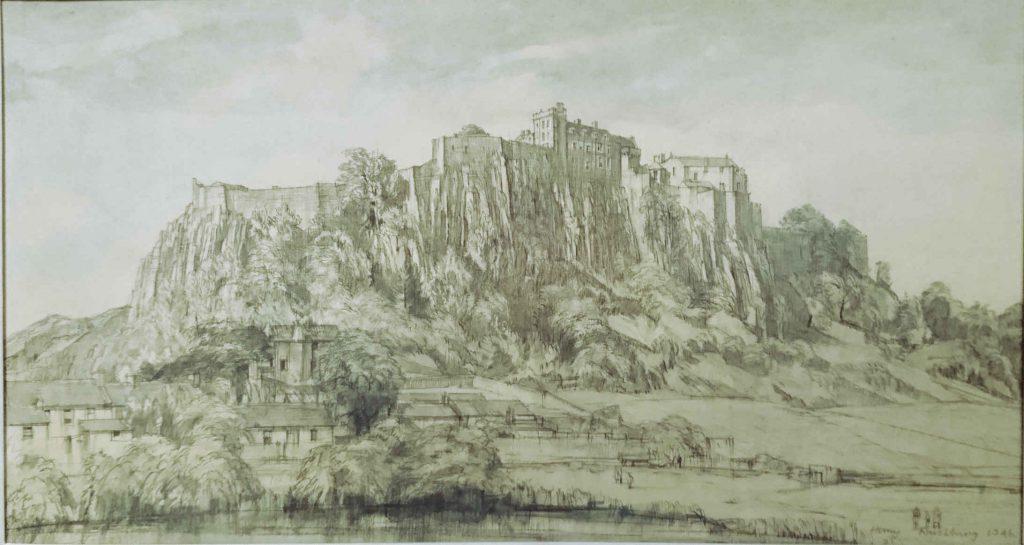 This fine Stirling view is a recent addition to the Stirling Smith collections, secured thanks to funding from Stirling Common Good Fund and through the voluntary services of friend of the Smith Dr Robin Campbell.
 Sir Henry George "Harry" Rushbury (1889 –1968) was an eminent and accomplished painter and etcher at the height of his powers when he visited Stirling. He trained at Birmingham School of Art. During the Great War, Rushbury was an official war artist. He was elected a member of the New English Art Club in 1917, the Royal Society of Painter-Etchers in 1921, the Royal Society of Painters in Water Colours in 1922, and the Royal Academy in 1936. In 1940 he was again appointed an official war artist until the end of the Second World War.
Rushbury may have been in Stirling on military business in 1946 when this watercolour of the Castle, enhanced by work in pencil, was done. Stirling was a place of great military importance at that time, although like every other visiting artist during the past 400 years, it was the majesty of the landscape which entranced him.
 In 1949, he was elected Keeper of the Royal Academy and Head of the Royal Academy Schools, a post he held until 1964.