This delightful cup, saucer and plate set is a recent gift to the Stirling Smith collections by Mr William Fraser. The cup features the Old Bridge of Stirling, the saucer has a print of Stirling Castle and the plate has a composite view of Cambuskenneth. The views on these English Ironstone pottery wares are Victorian, but the pieces date from between 1973 when English Ironstone Pottery Ltd became English Ironstone Tableware Ltd and 1994 when the company went into receivership.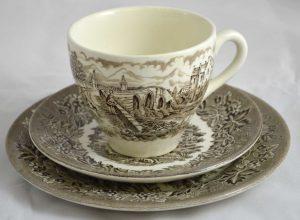 These wares were manufactured in the Washington Works, Hanley, Stoke on Trent and represent a particular time in the long slow contraction of the English pottery industry. With so many imports from overseas undercutting English manufacture, the industry tried different initiatives to grow their market. One tactic was to create different wares with a historic appeal for different towns and villages and advertise them in local newspapers, selling through Royal Mail. After the demise of the company its new incarnation was self-deprecatingly called Just Mugs.
Souvenir mugs, as advertising or fundraising pieces, are a basic staple of most potteries.
Wherever there is creativity, ceramic making will flourish.  The availability of the carse clay of Stirling saw the rise of industrial potteries at Throsk, serving central Scotland in the 17th and 18th centuries.