The story of King Robert the Bruce has been told and re-told ever since he captured England's best poet, Robert Baston, at the battle of Bannockburn and made him write a poem on the great Scottish victory. Baston took 20 years to do it, and there have been many versions of the story in the centuries since.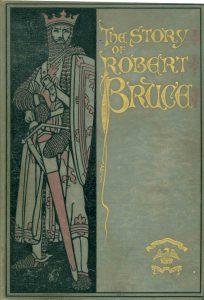 This book by the historian R L Mackie was published in 1913, for the 600th anniversary of Bannockburn in 1914 and was popular for over 30 years. It has 16 illustrations by the artist M Meredith Williams (1881 – 1973) who later worked on the Scottish National War Memorial. It is one of many items from the Smith collections in the Bruce exhibition at the Stirling Smith, where tomorrow at 12 noon, Scott McMaster will give an account of the National Trust Battle of Bannockburn, followed by Dr Michael Penman of the University of Stirling on Friday whose subject is 'The Tomb of Robert Bruce – a case of mistaken identity? Dunfermline Abbey as Royal Mausoleum and Pilgrimage Site'.
On Friday 30 September at 12 noon Dr David Mitchell will give an account of finding the lost tomb of Robert the Bruce. All are welcome at these free events and lively discussions at the Smith.