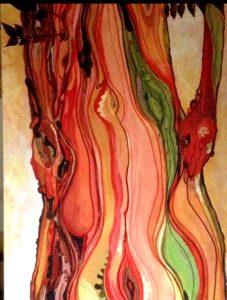 Once again, the members of the Glasgow Society of Women Artists are exhibiting at the Stirling Smith Art Gallery and Museum. It is one of the oldest and most prestigious societies in Britain, with its origins in the Glasgow Society of Lady Artists, established in 1882.
The word 'Glasgow' is something of a loose description of the members, as many of them are resident in Stirling and elsewhere in Scotland. This is exemplified by Janette Macleod, who entered the Glasgow School of Art at the age of 16, with the desire of still being able to able to paint in her old age. Being an artist has challenges for women, who have to rear children and perhaps find other ways of making a living to support their art. Janette became a teacher at the High School of Stirling in the 1970s and 80s, retiring in 1986. Since then she has exhibited widely and won many awards.
A trip to Australia sparked her interest in trees, and this is her very own Scottish 'Tree of Woman', pulsing with feminine shapes, the green sap rising, the blood nourishing all of the structure and pushing out new leaves. On the right hand side, a serpent slithers, referencing the story of Eve in the book of Genesis.
There is much thought – provoking Stirling art in the GSWA exhibition, which runs until 16 July.