Established in 1858, Stirling Bowling Club is one of Stirling's oldest sporting organisations. The Green was the first site to be developed on the north side of Dumbarton Road.  Stirling architect William Simpson (1809 – 1890) designed the Club House, which was built in attractive coloured brick and opened in 1866. Simpson was also architect for the Albert Halls and among his many other buildings are Norrieston, Ardoch and Dunipace Parish Churches.
In many ways, the history of the Bowling Club is like a micro – chronicle for Stirling, preserved in the names of its trophies. The Campbell – Bannerman trophy was presented by Stirling's MP and later, Prime Minister; the Lawson Memorial Cup keeps alive the name of Lawson's Stores in Baker Street; the Detention Barracks Cup is a reminder that the staff of the building now known as the Old Town Jail were bowling club members until the Barracks closed in 1936; the Peter Gray Trophy of 1944 keeps fresh the name of Provost Macfarlane Gray and his accountancy firm.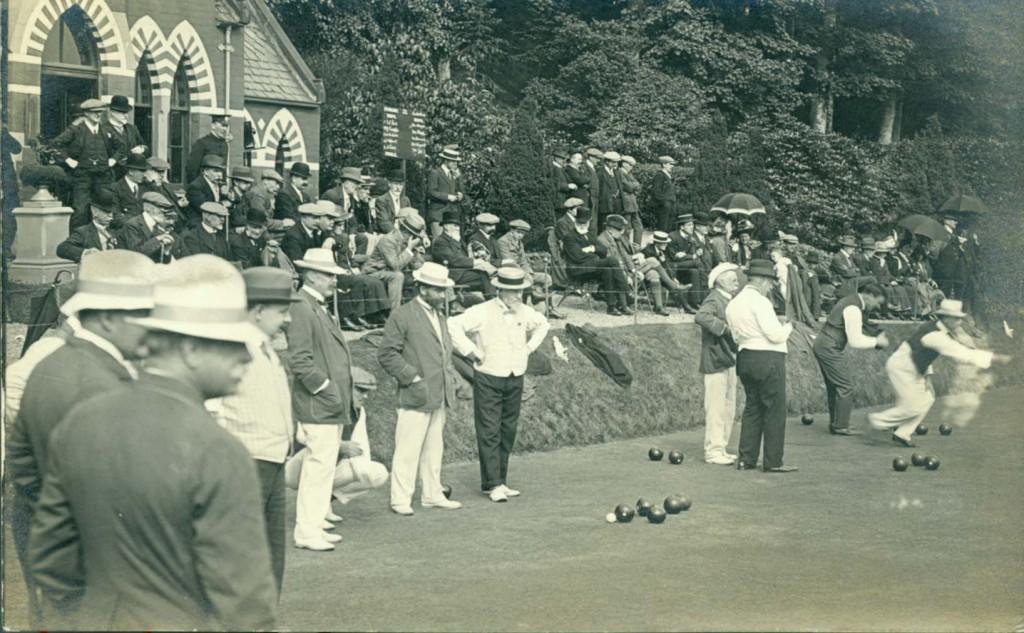 The photograph shows a match between a Canadian touring team and Stirling Club members on a bright sunny day in 1904. Two lady spectators (women were admitted as players only in 1977) have parasols raised to protect themselves from the sun.