With the tourist season here, it's worth taking a look at what attracted visitors to Stirling in the past. This postcard dates to 1910, features tartan and Scottish harebells and celebrates the Links of Forth.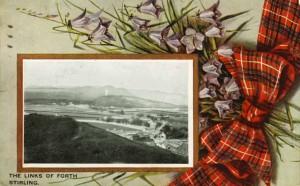 The view of the winding river from the Castle craig or the Abbey craig is what visitors came to see. The poet Arthur Johnston (1597 – 1641), writing in Latin, compared the windings of the Forth to the River Maeander of Homer's Illiad.
Robert Burns came here in August 1787, and wrote to his friend that "just now, from Stirling Castle, I have seen by the setting sun the glorious prospect of the windings of the Forth through the rich carse of Stirling, and skirting the equally rich carse of Falkirk."  This was the inspirational landscape that the tourist wanted to visit.  This was the riverscape that the exile and the emigrant wanted to remember.  The poet Hector MacNeill, before he departed for the West Indies in 1796 wrote his poem "The Links of Forth", a work of forty-nine verses describing and extolling this part of the river's beauty and industry.
Since the loops of the Forth 'worth an earldom in the north' have been built upon, the river has been obscured and the view is not as dramatic as it once was.