This column often features paintings which are part of the art history of Stirling and Scotland.  The Stirling Smith Art Gallery and Museum was founded by a practising artist, Thomas Stuart Smith, with his own paintings and works of his contemporaries as the foundation collection.  The Smith, therefore has a commitment to the work of living artists, and contemporary exhibitions are held throughout the year.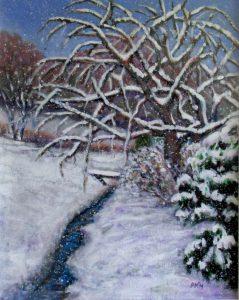 These exhibitions offer the opportunity of building up a collection, or at the very least, finding that unique and special gift for friends and family.  Featured here is a seasonal painting by artist Pamela McMahon who resides at the Port of Menteith and delights in painting the local landscape.  The district of Menteith was first made into a tourist attraction by the book of that name (1895) written by Robert Bontine Cunninghame Graham and illustrated by local artist Sir David Young Cameron.  Literature, art, and tourism go hand in hand.
Contemporary art is always worth consideration.  It becomes tomorrow's art history, and unlike the mass-produced goods in our chain stores, it is unique.  There are many artists and craftspeople that live and work in Stirlingshire, and all deserve our support.
The Smith will be closed on the four public holidays of Christmas and New Year, but is open as usual during the holiday weeks.