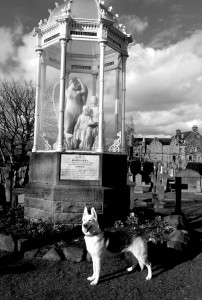 Ava- half wolf half husky-will hear her ancestors howling for the first time in a pop-up art event, a sound installation, in the Ailie garden of the Smith museum and gallery on Friday 3 May 7-9 pm organised by Creative Stirling.
Her owner, Amanda Taylor from Cowie, says 2-year-old Ava is a pampered wolf and she has no idea how she will react to hearing wolves.
The inspiration behind the sound piece, created by Ann Shaw, freelance artist and writer, comes from the Stirling legend of the howling of a wolf that alerted the good citizens of Stirling in the 9th century to an oncoming invasion by the Vikings.
Now the wolf is a motif in the city coat of arms and is commemorated in images and literature but this is the first time the wolf has been celebrated with a sound installation.
Ann Shaw, former journalist with The Herald in Glasgow says:
" I created the artwork from recordings in the British Library Sound Archives."