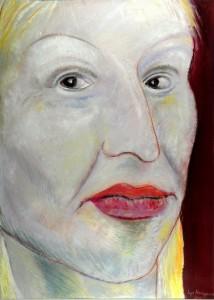 Poetry is the theme of the new exhibition which opens at the Smith this Saturday.  Doing the honours will be Lesley Duncan: poet, Stirling resident, and Poetry Editor of the Herald.  Lesley is already represented in the Smith's collection with a portrait by artist Lys Hansen.
 The exhibition features works by 30 artists from the Edge Textile Group.  The group was formed in 1999 to promote excellence in all aspects of contemporary textiles.  Each artist has selected a poem, and interpreted it using textiles and other complementary materials.  There is no strong tradition of art depicting literature – the age when artists drew inspiration from the novels of Scott and the poetry of Burns has long since passed – and the medium of textiles poses many challenges.  Shown here is Tam o' Shanter, a stitched and printed hanging, by artist Betty Fraser Myerscough.
 Burns is a favourite subject with several artists.  Other poets featured include Liz Lochhead, George Mackay Brown and Kathleen Jamie.