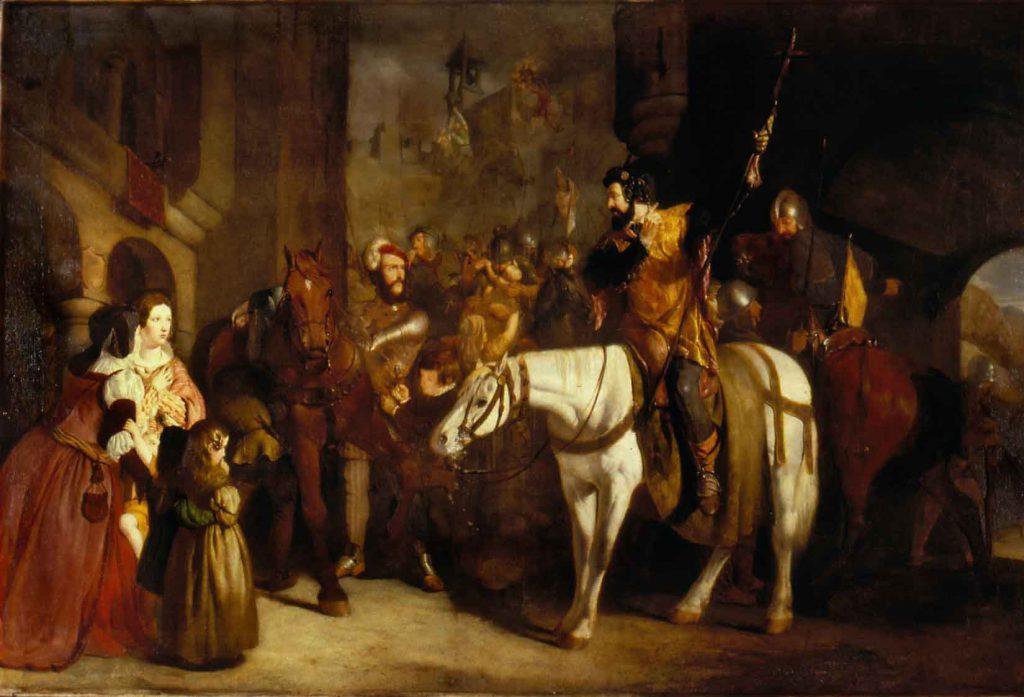 The Fiery Cross by James Drummond, is one of the great history paintings in the Smith collection, acquired through a bequest of the artist, a few years after the Smith opened, in 1877.
It shows the 'Fiery Cross', a Celtic signal used as a call to arms, arriving at Stirling Castle. This was carried through Scotland in 1547, by the order of the Earl of Arran, Governor of Scotland, during the time of the 'Rough Wooing', when Henry VIII of England was attempting to marry his son Edward to the infant Mary Queen of Scots. It was at this time that the Stirling Town wall was built and strengthened, and Mary was moved to Inchmahome for safety.
The artist James Drummond (1816 – 1877) was a member of the Society of Antiquaries of Scotland along with fellow artists Joseph Noel Paton, D.O. Hill and William Fettes Douglas. Most of Drummond's subjects were drawn from Scottish history and allowed him to reveal his great knowledge of costume and weapons. Drummond also became curator of the National Gallery in 1868. His childhood was spent in apartments at 49 High Street, Edinburgh, formerly John Knox's house. Later in life the artist made a series of drawings of Edinburgh's old town during the 1840s-50s at a time when many buildings were being demolished.