Today's story is a holiday themed painting in the Stirling Smith collections by artist James McDonald RSW.
Born in Stirling in 1956, James studied at Edinburgh College of Art, completing his post-graduate year there in 1979. Working initially in the field of printmaking (advanced intaglio techniques), since 1989 he has devoted his time primarily to painting, exhibiting in mixed & solo shows worldwide.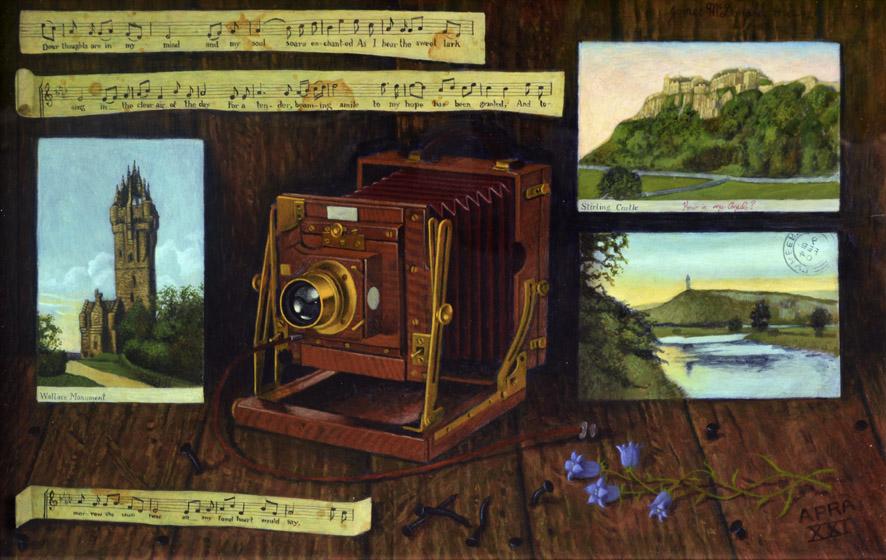 Examples of James' work can be found in numerous public & private collections worldwide, including: The Victoria & Albert Museum, The McMasters Museum, Toronto, The Hunterian Art Gallery, Glasgow, Strathclyde University, The Clydesdale Bank, HBoS, and RBS.
He is a regular exhibitor at The Bohun Gallery, Henley on Thames, Panter & Hall-London, Cameron Contemporary Art, The Royal Glasgow Institute of Fine Arts & at the London and Glasgow Art Fairs.
James is well – known for his trompe-l'œil paintings, where details are rendered giving a three-dimensional effect. In recent years, some of these have had a Scottish food theme, like piece 'n' jam, banana piece, chips on a roll, etc. The Stirling painting references Edwardian holidays in the town with the carefully depicted postcards, camera and flowers.