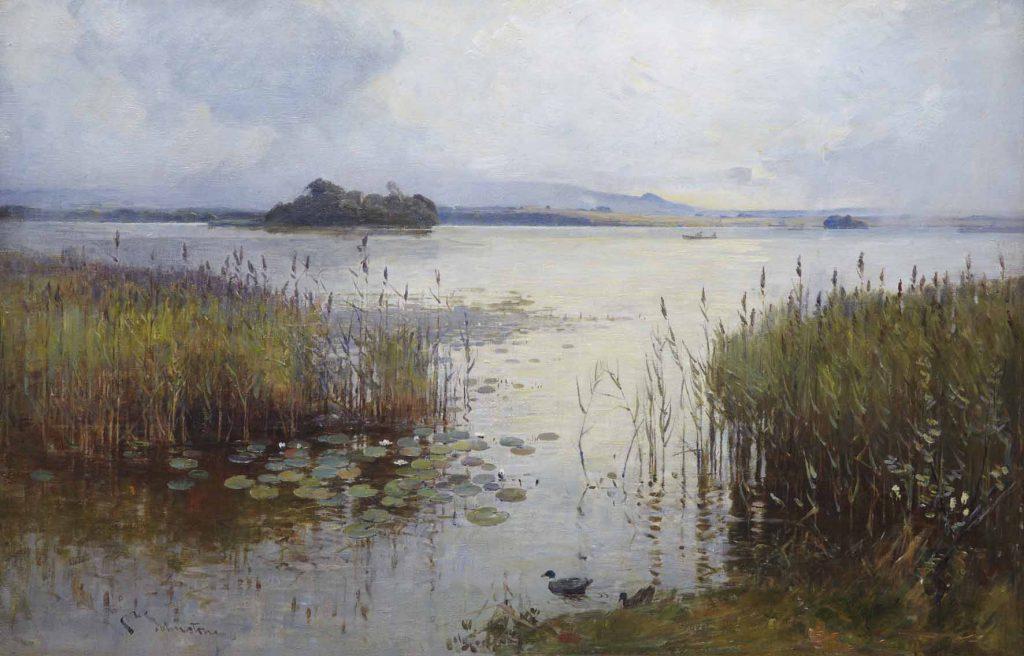 This is one of two works in the Smith collection by the Scottish artist George Whitton Johnstone RSA RSW (1849-1901) and dates to 1890.
Johnstone was born in Glamis and went to Edinburgh as a cabinet maker. He later became a pupil at the Royal Scottish Academy Life School, painting portraits and genre pictures. Later in his life, he preferred landscapes and painted many scenes around Eskdale and Annandale. He also went to France, where he painted in the Fontainebleau Forest. His composition and foliage are reminiscent of the Barbizon painter Corot.
The Lake of Menteith is one of the great romantic beauty spots within the Stirling area. The viewpoint is towards the Island of Inchmahome, the site of the Augustinian Priory to which the infant Mary Queen of Scots was taken for safety, and the burial place of the author and laird of Gartmore, Robert Bontine Cunninghame Graham.
The painting was exhibited at the Royal Scottish Academy exhibition of 1891, where it probably attracted the attention of the art collector and Stirling dentist Leon Jablonski Platt. Platt bequeathed his art collection to the Smith on his death in 1914, and this is undoubtedly one of the Smith's treasures.