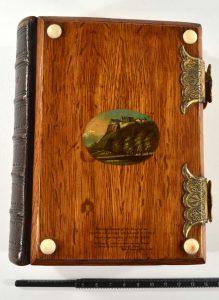 Today, visitors expect – and get – quality souvenirs at our visitor attractions. Today's object from the Smith collections is a souvenir which is at least 155 years old, and was sold in the Douglas Room within Stirling Castle. It is a bound book containing frames for 48 cartes de visite, the small photographic portrait prints patented in Paris in 1854. It has gilt fore edges and ivory corner knops to protect the covers.
The spine of the book is leather with a gilt inscription. The end covers are "Warranted made of the wood of the Douglas Room of Stirling Castle. Saved from the fire of 18 November 1855. A hand painted miniature of Stirling Castle is on the cover and the book is closed with metal clasps.
The Douglas Room where King James II stabbed the eighth Earl of Douglas in 1452 before throwing his body from the window was formerly the main visitor attraction in the Castle and became a museum after the fire damage was restored. Many other examples of souvenir wood ware or Mauchline ware were marked as "Sold in the Douglas Room Stirling Castle".
This book is one of 109 items of Stirling Mauchline ware bequeathed by Betty Meikle OBE (1928 – 2013)